need some wacky doodles?!
maybe you'll be interested in this carnival set i made for the Doodle Challenge
(images are linked)
a wordart made for the Recipe Challenge jump started this mini kit:
hope you like it & feel motivated by this quote

you'll find the whole scoop & your copy of the kit on my blog
i made a calendar card & a cutout overlay for my review layout, so i tweeked them some more to offer you guys a copy as well
if you can think of anything you might create with these, please help yourselves!

(preview will take to my blog)
JournalCards are slowly starting to grow on me. Mainly because I've dicovered they're the perfect little blank canvas for me to scribble on! And making these was so exciting, I thought I'd share them with you lovely people (click here or the image) Hope you can get some use & inspiration out of it!

*Cards are rounded, sized 900x1200 px, saved as .png
Since the theme is NewYears, I focused on some of the NY symbols: the Piggy represents moving forward & not looking back, Clovers are for luck (obviously) & a hint of Red is what you gotta have on your clothes on NY Eve.
My darlings, I wish you a good start of the TwentyFifteen & have fun scrapping about it!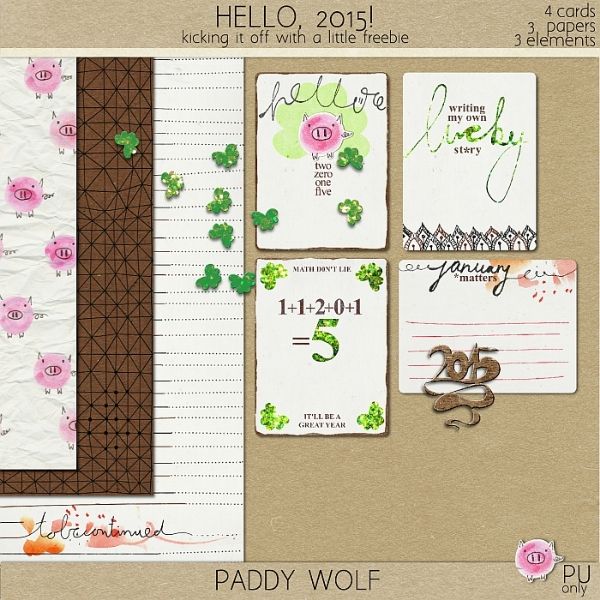 Ho-ho-ho-hello, people!
In this season of giving & sharing, I felt inspired to make a wee bit present for you all, as well

It contains 1 background in .jpg & 8 elements in .png, all at 300 dpi & covered with my fingerprints (as they passed through my hands, brushes, scissors)

(click on the preview for direct download)


Hope you have a "holly, jolly" time playing with it!